My IPv6 project.
My IPv6 project, here is a sample of the test network.
My IPv6 sample network:
Here is some ping times on the 64,732 km long travel.
The light travels with 300,000 km / sek in vacum, but only 200,000 km /sek in fibres.(generally)
The physical time for the light is 64,732/200,000*100 = 324 ms.
The rest of the time, is longer fibere due to not direct line between Denmark and Sydney and delay in equitment.
I have later calculated the distance from info in trace route to at
least 47,537 = 95,074 km / 475 ms.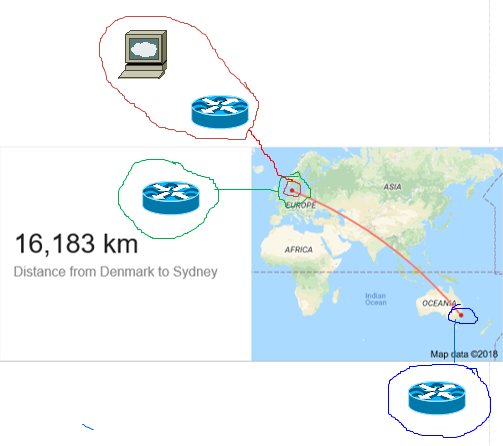 The trafic from the test webserver, travels 16,183 km from Denmark to Sydney, as IPv6
This takes around 310 ms (red circle to blue circle)

The it travel back 16,183 km as IPv6 in a IPv4 Tunnel 320 ms

This gives a total of 640 ms for the 32,366 km (64,732 km ping and reply)